Vispring vs Duxiana
Need help choosing the right mattress? Read more to discover the difference between leading brands Vispring and Duxiana European luxury mattresses.
Which Mattress is Right for You?
Choosing the right mattress is an important step in mastering the art of getting a great night's sleep. While most shoppers may think the decision lies in choosing soft vs firm, there are many more factors at play.
The way a mattress is made and the materials that go into it, how long your mattress will last and how its makeup supports your specific body shape and sleeping preferences, all factor into choosing the right mattress. 
When it comes to support, more springs isn't necessarily better, but rather how they are arranged to provide constant support for your neck, shoulder, back, hips and legs. The best mattresses mold to your body and have a balanced spring elasticity, ensuring longer, undisturbed sleep. 
Your weight, height, sleeping style, and any medical issues or chronic pain should also factor in finding the best mattress tailored to your individual needs. Taking all of these elements into consideration can be the difference between tossing and turning, and a better night's sleep for a healthier, happier lifestyle.
For over a century, Vispring has refined the subtle art of matching the ideal combination of spring size, tension, and resilience for superior comfort. Each bespoke Vispring bed is individually made to order by the hands of skilled craftsmen with only the finest materials nature has to offer. 
Vispring beds are upholstered with the finest natural fibers, including Shetland wool, raw silk, cashmere, horsetail coir and bamboo, all sustainable sourced, selected and blended for the ultimate in comfort and suport. Each bed is covered by the Vispring Lifetime Guarantee and will be repaired or replaced as appropriate.
Vispring invented the pocket spring in 1901 and is the only bed manufacturer to produce their own springs from Vanadium steel that come in 4 different tensions (soft, medium, firm, extra firm). The individually pocketed springs are hand-nested in a honeycomb pattern for maximum support from head to toe.
The Vispring collection offers 10 unique beds, as well as accessories such as headboards, linens, legs, mattress toppers, quilted mattress protectors and mattress pads.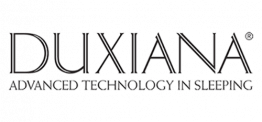 The Duxiana mattress, also from Sweden is the result of over 90 years of science, research and testing. Designed for ultimate comfort, the DUX Bed is design to help ease back pain and maximize circulation. This is accomplished by utilizing a dynamic spring system that actively adjusts to your individual body shape and movements and is customizable in that you choose the level of support needed at the shoulders, hips and legs. 
Nearly one mile of high carbon Swedish steel is used to make what amounts to up to 4,188 springs. The 6 spring cassettes that make up the top layer of the Dux Bed are made in three different densities or tensions, and can be rearranged to suit you and your partner's unique body support needs. 
In addition, the bed bases are made up of Swedish pine, natural hevea latex blend, and quilted natural cotton. The Duxiana line includes 5 customizable beds along with accessories such as pillows, duvets, headboards, legs, linens and allergy covers.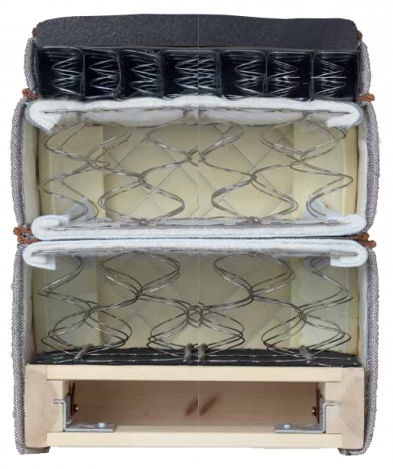 DUX 8008
The most advanced and luxurious model in the Duxiana line, the DUX 8008 features up to 4,008 springs, as many as 6 Pascal cassettes arranged for soft, medium or firm support of the body's three comfort zones, a removable Xupport top pad, and lumbar support adjustable for each side of the bed.